AUSTIN, Texas — Another cold night in the forecast so have the jacket if you have any plans this evening or before you head out of the door Monday morning. Most areas will fall to or below freezing but Austin should remain a touch above freezing. After a cold start to the day, a warming trend starts heading into your Dr. Martin Luther King Jr. Day afternoon as we hold onto sunny conditions with temperatures in the upper 60s and lower 70s.
Even warmer temperatures for your Tuesday and Wednesday with highs climbing into the mid to upper 70s. Wouldn't you know it, this is ahead of the next cold front that arrives late in the day Wednesday.
This cold front will bring a significant cool down to end the week heading through the weekend. Behind the cold front, it appears an unsettled weather pattern will develop to end the week with a slight chance for a few showers from Thursday afternoon through the weekend. If enough precipitation develops, and temperatures are cold enough, a few areas could see wintry precipitation during this timeframe. There is a lot of uncertainty with this forecast at the moment, so we will continue to monitor the situation very closely over the coming days.
SUNDAY NIGHT:
Clear and cold. West-northwest winds at 5 to 10 mph.
LOW: 34°
MONDAY:
Pleasant and mostly sunny. North winds at 5 mph.
HIGH: 67°
MONDAY NIGHT:
Cool and clear. South winds at 5 to 10 mph.
LOW: 42°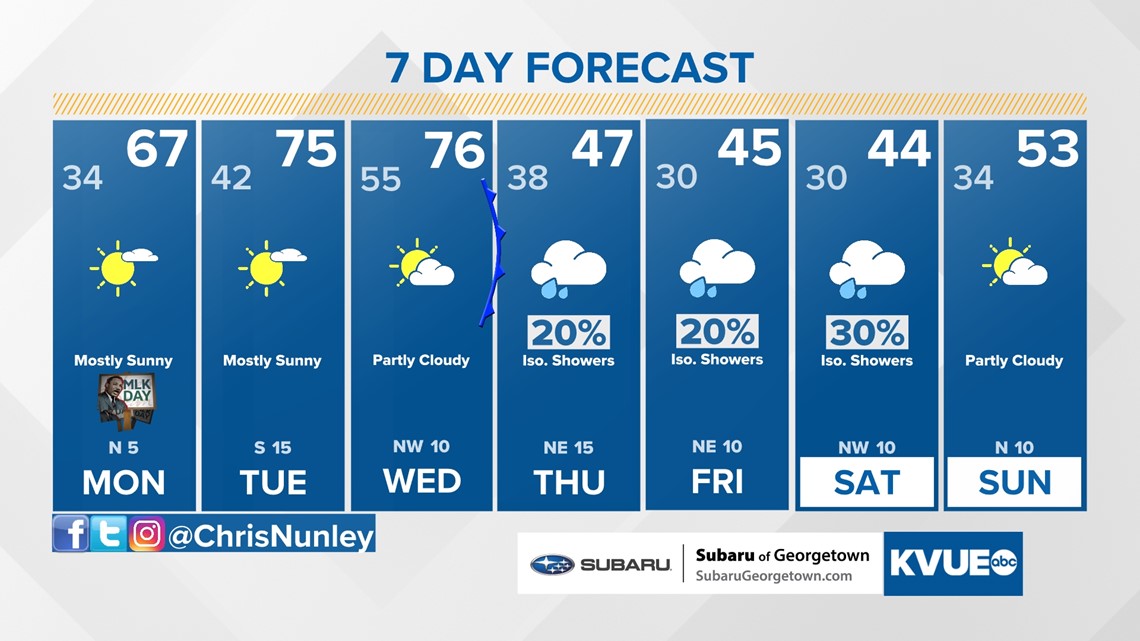 Check out the live radar for what you can expect the rest of the day and into Wednesday.