AUSTIN, Texas — After an active Sunday evening and night, things have begun to calm down in the Central Texas region. A line of showers and thunderstorms has moved past Central Texas. Areas south of the KVUE viewing area saw the heaviest activity.
A stray shower or thunderstorm will not be ruled out overnight. Most heavy rain will be out by Daybreak Tuesday. A few afternoon storms will be possible Tuesday afternoon along and east of Interstate 35.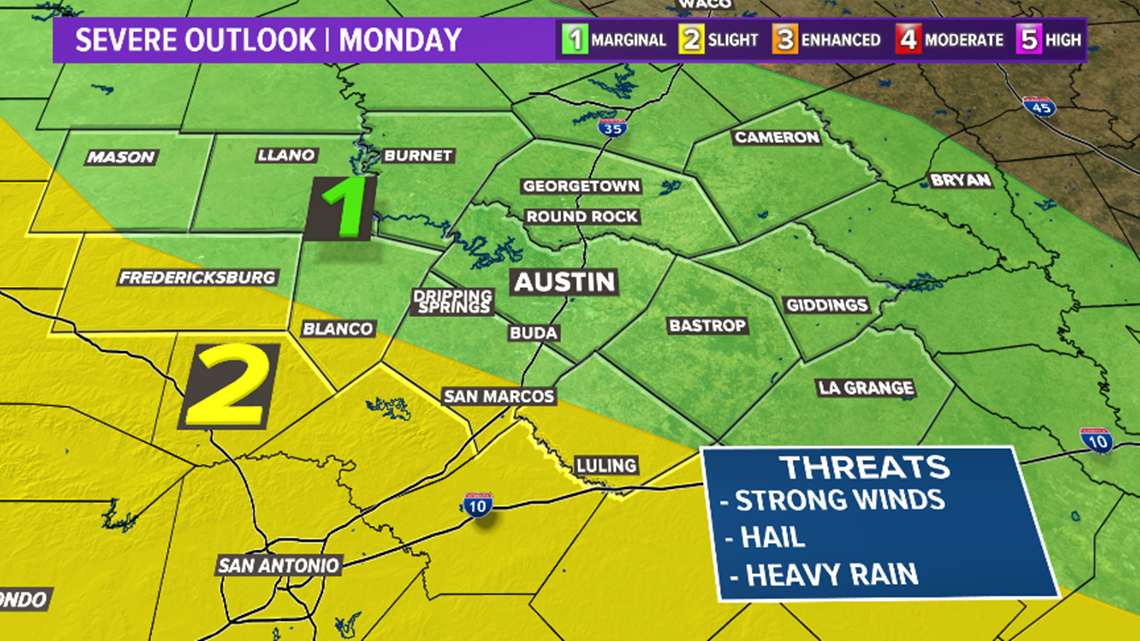 Here are today's live updates:
12:21 a.m.: No active severe thunderstorm warnings or watches in our area.
12:10 a.m.: Mariel says in that thunderstorm warning area, she's no longer seeing any threat of hail – just rain and lightning. Just some light rain along the Interstate 35 corridor around Hays and Williamson counties. Still seeing quite a bit of lightning in the Smithville area.
11:40 p.m.: A severe thunderstorm warning includes southern portions of Fayette County until 12:15 a.m. The storm is moving east at 50 mph and the main threat is quarter-size hail.
Mariel says we're not expecting anything severe in our area. At most, some areas could see quarter-sized hail.
11:30 p.m.: Rain is moving through the Austin metro area, but the heavier storm activity remains south of the KVUE viewing area.
11 p.m.: Thunderstorms are now in Hays and southern Travis counties. Non-severe at this time, but lots of lightning.
8:45 p.m.: A severe thunderstorm watch is in place for areas southwest of the KVUE viewing area, including San Antonio, until 4 a.m.
3:30 p.m.: Storms continue to move east as they decrease in intensity.
2 p.m.: Band of heavy rain pours over an already saturated Hays County, Bastrop County and southern Travis County. Rain pours down in South Austin right along South Congress.
1:40 p.m.: A Flood Advisory has been issued for Hays County until 3:45 p.m. One to two inches of rain have already fallen as storms continue in the area.
More:
Some of Monday afternoon's storms could create quite a rumble with plenty of instability, heat and humidity available. So, the window of opportunity to enjoy outdoor barbecuing and venture to some local parks need to be at the risk of what radar shows as some storms could grow into supercellular with gusty winds, large hail and an isolated tornado possible.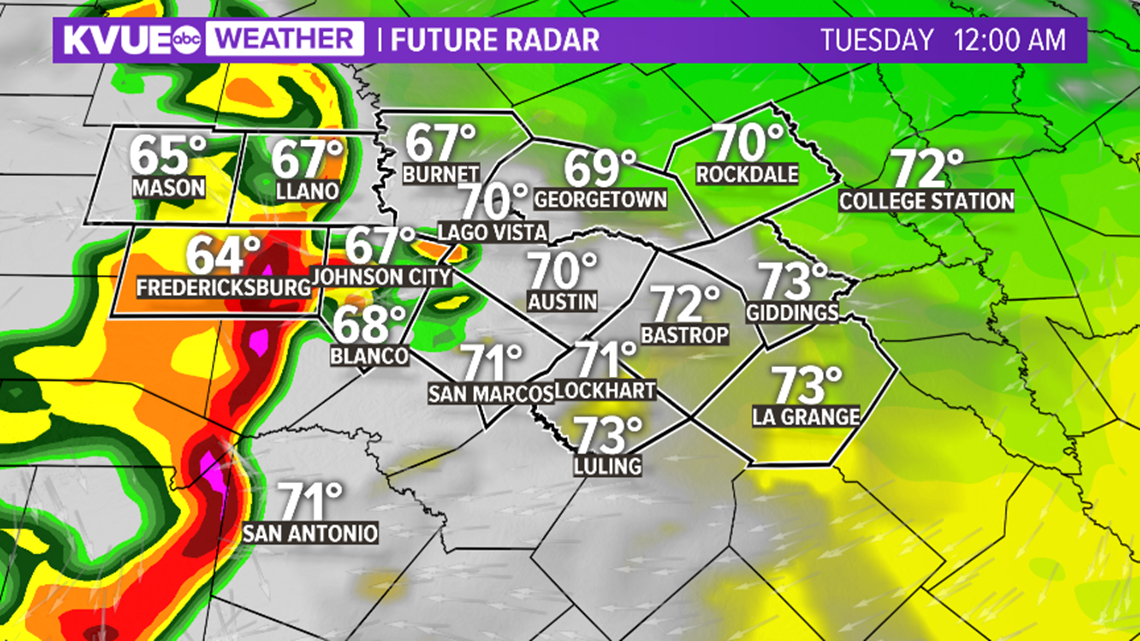 Given the heavy rain in some areas this past weekend, models continue to show signs of an additional one to three inches as tonight's cold front passes.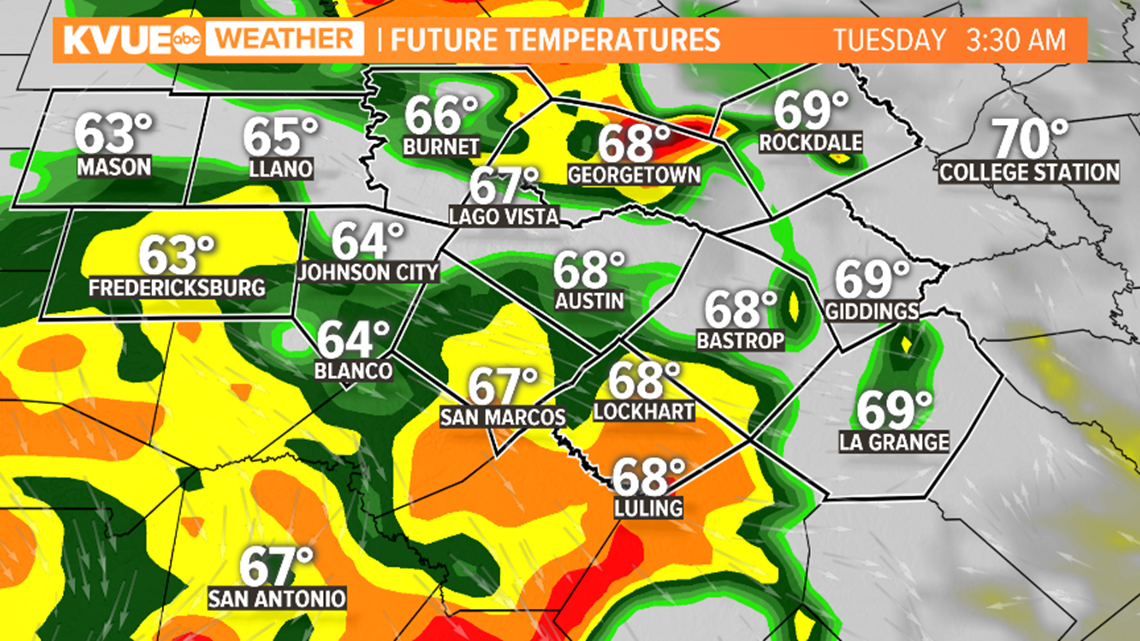 At this time, the main event looks to occur after midnight and should exit by sunrise Tuesday. Some wrap-around showers will be possible through the daytime with cooler-than-normal high temperatures: upper 70s for the Hill Country and low 80s for the Austin metro area.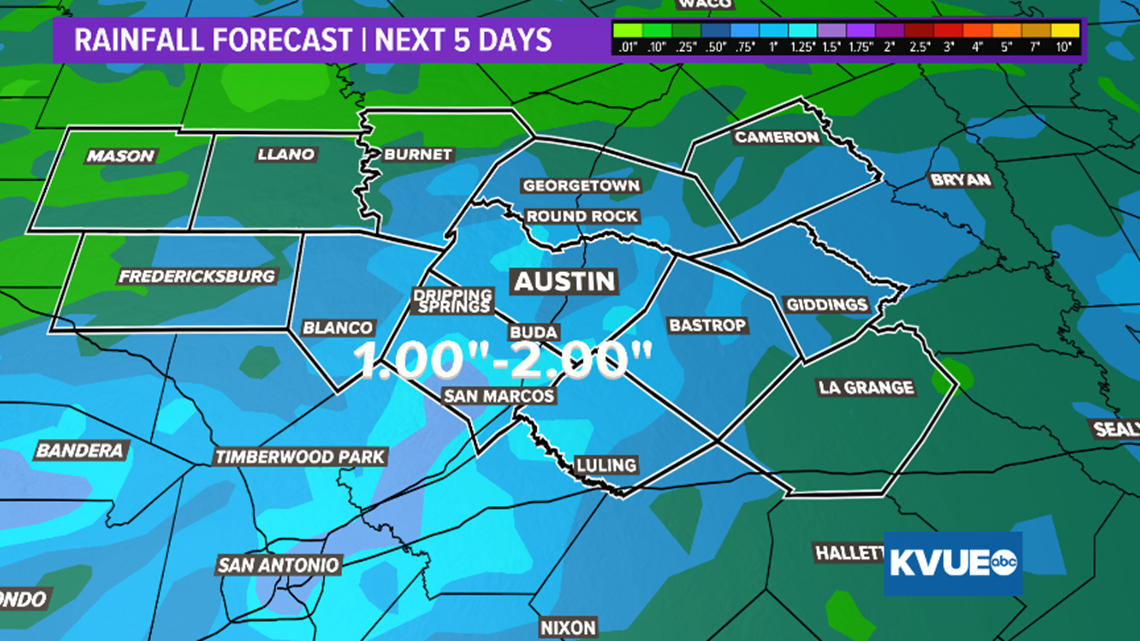 In the days to come, the upper-level low drifts northeast and some stray showers and storms could filter back into Central Texas through the rest of the week. Whether or not these provide enough concern for severe threats or flooding continues to keep our attention; however, it is important to remember "Turn Around, Don't Drown" as familiar passages can become unfamiliar quickly with heavy rain and poor visibility.