Connected in Tragedy: The USW Golf Team
One year ago, a tragedy that shook the nation took the lives of six members of the USW golf team and their coach, along with a father and son.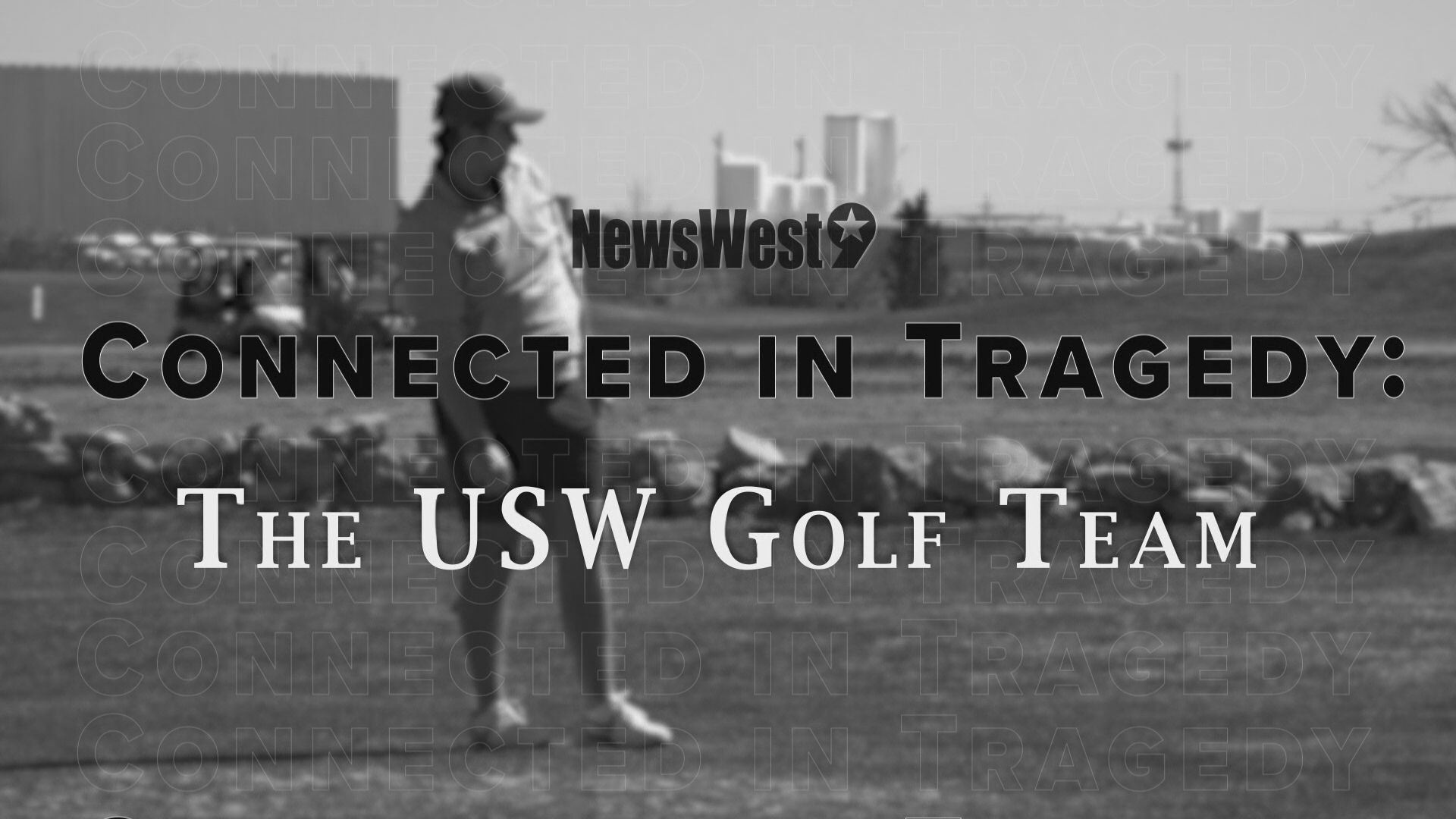 March 15, 2022 was a day of unimaginable tragedy, grief and heartbreak… when a horrific crash took the lives of nine people.
That was one year ago, and we still feel that grief... but for the survivors and the victim's families, they've turned some of that pain into positivity.
They're healing in their own way, and they're making sure that the world never forgets the legacy their children left behind.
For some people golf is a staple of their lives.
"A couple of my buddies played golf, and then went to the driving range, and just kind of fell in love with it," USW golfer Dayton Price said.
That's no different for Dayton.
"He was on Team Canada for a couple of years," Dayton's mom Ornella Price said. "And that was a real joyous time for him, and he just developed such a liking for it [...], that he decided that golf was his future."
"I got into golf. I mean, kind of at a young age," Underhill said. "I just fell in love with it and just wanted to continue to play it for as long as I can, and take it, see where it takes me. It's my happy place. I can relax when I'm on the golf course."
Especially when your team feels more like a family. Both Hayden and Dayton were a part of the University of Southwest Golf team last year.
"It was just like your brothers and sisters," Price said. "And I would have never thought in a million years that I would have met some of these people that I did here."
"We're always having fun," Underhill said. "We'd be giving each other some chirps or puns at each other, and just always joke around, keeping it light but always having a good time, and being competitive with each other. We're always just always together having fun no matter what we're doing anywhere."
One Year Ago...
:
March 15, 2022
On that day, members of the USW golf team just finished a tournament in Midland.
They were headed back to Hobbs on Old Telephone Road.
"I remember we played our tournament," Underhill said. "We got out and we went to Chick-fil-A, and after that we were driving..."
The team's bus was engulfed in flames after being hit head-on by a truck.
"The last thing I remember is taking my golf shirt off and trying to break the glass in my hand and kick the window open, and that's how I got out," Price said. "And after that, I don't remember anything up until I was in the hospital."
"It's all just really a blur and it's just a lot," Underhill said.
The wreck killed six team members and their coach.
In the truck, a man and his 13-year-old son were also killed.
Hayden and Dayton were the only survivors…
"So that night I was actually in the dorms," team member Phillip Lopez said. "I was just three shots short of qualifying for that tournament."
"I live in Andrews, So I went home with my parents that night," member of last year's team Halie Cruz said. "I ended up being the first one to get the phone call for the team wise. I had to help identify who was on the van. And so, I mean, yes, it was hard. I mean, we weren't expecting it."
"And I don't remember exactly what was said just because I, like, heard like 'your team just died' and I was just like, 'that's like a sick joke,'" member of last year's team Taylor Phillips said.
"That night it was just something else," Lopez said. "I just didn't know what to do, was just kind of didn't feel real."
"It was a very calming woman on the other side of the phone," Dayton's mother said. "And she said 'Mrs. Price, I need to advise you that there's been a really horrific accident that your son has been involved in. There's been some fatalities.'"
"It was about 12:30 in the morning," Sandy Raines, the mother of victim Karisa Raines, said. "And they called and let me know that she had not survived."
"I got the phone call, and it was close to midnight in Denver," Jen Zinn, the mother of victim Jackson Zinn, said. "Ryan Tipton [interim president of USW] called and said Jackson and his golf team had been in an accident. There were seven casualties and two boys are in the hospital. And I said, 'what hospital is Jackson in?' And he said, 'I'm sorry, Jackson didn't make it.' And I just said, 'no, no, no.'"
"But it absolutely was a long blur," Haydan Stone, father of victim Laci Stone, said. "I mean, everything that happened that night, and within the weeks after, were so much of a blink, and also the longest days of our lives."
"It was just the most horrible thing I've ever gone through in my life," Raines said. "And it's a night I'll never forget or a morning I'll never forget."
A Year Later...
:
March 8, 2023
Nealry one year later, on March 8, 2023, at the Swing Fore Nine golf tournament at Rockwinds Links Golf Course in Hobbs, NM, survivors and family members gathered to celebrate the lives of those lost.
"This is our home course," Cruz said. "It's been like, of course, what I've said, the memories are out here. And so you're like, 'oh, like Karisa, Lacy or one of the boys did something funny out here.' So we came back to finish what they started, and live on in their memory, and do the sport that they loved. We were very much a family, we pretty much were together 24/7 and if you didn't see us together, there was something wrong."
"Golf now is kind of hard," Lopez said. "It's just not the same without the guys here, but it's just trying to fight back for the game I love. Last year our team was more like a family. So we're all pretty close, especially that second semester. So everyone was always so fun and energetic and just these people I get to call family, especially Coach James."
"Like Coach James was probably the person I talked to most about what was going on in my life, just because he never judged anybody," Phillips said.
"He was a great dude," Lopez continued. "He really cared for us, and always cared for us on the golf course, and off the golf course. [He] would take us out to eat, would come to the dorms and hang out with us for a bit. But he's probably one of the best coaches I ever had"
"Before I came to USW and like, met everybody," Phillips said. "I was a very selfish person. I'll be real. I did a lot for myself and I didn't really pay attention to the people around me, but since I met everybody, I started, like, seeing myself want to be more like them, even if it was like little things. And like, it wasn't 100%, but now I feel like it's like I'm going to do whatever I can do for other people because that's what they did."
"But when we finally got the news," Laci's mother Chelsi Stone said. "I still think it took some time for it to feel real. Today it still doesn't. I think we can pretend like she's just at school. Makes it a little harder when we're here and she's not with us. But I don't know if you ever will feel real."
"We haven't really had a chance to sit at the house and just sink it in and overwhelm ourselves with it," Chelsi's husband Haydan said. "So which, I'm sure is still to come. And we're not done. It'll never go away. So we've got a long time to grieve this and we'll spend the rest of our lives doing it, but we're also spending the rest of our lives being positive and bringing it out, bringing her light out."
"So not only have our other two kids have pretty much dedicated everything that they've done this year to Laci, and which they excelled in just amazingly, just impressively, they've done so much," Haydan continued. "Both of them have gotten amazing honors, and all the sports that they played so far, and they've done it all in her honor."
"When we play, we always talk about Jackson," Jackson Zinn's mother Jenn said. "And sometimes we get paired up with strangers and they ask, 'how many kids do you have?' And I say, 'I have three,' and I have little business cards printed with Jackson's website. And they're like, 'oh, I heard about this story.' And I said, 'well, read more. I want you to hear about Jackson. And you need to be like Jackson.'"
"I think one of our favorite memories is she was a homecoming queen nominee and she was the last one out," Chelsi said about Laci. "And they're reading all their stuff and it says 'favorite quote', and all the other girls have a Bible verse or something. And hers was 'YOLO' [You Only Live Once]."
"It absolutely embodied who she is," Haydan continued. "She just, you know, you get your chance to live it, and have a great time, be all about it, be positive, bring the best out and move forward and that's her. And the saying 'YOLO' doesn't go away. Make the best of it, be the best you can be while you're here. Be the best person you can be while you're here, and just be amazing. And Laci did that. So we can't take that away from her."
"There's no regrets," Jackson's dad Greg Zinn said. "I know Jen didn't have anything left to say to him. I didn't have anything left to say to him. He didn't have anything left to say to either one of us. We were just very open with how we loved each other. And I would say to anybody that has kids out there or has a, or even a relationship that's not intact anymore, get over it. Get out there and love those people and leave no regrets. Leave nothing. Nothing."
"And people ask us, 'are you all going to stop playing golf?'" Jen said. "'I mean, that's the sport that took your son.' And I said, 'no'. Greg said vehemently, 'no,' it's the sport that helped create our son."
While the families are remembering their loved ones, there are two players with a second chance at life.
"I can't imagine my child going through a trauma like they have gone through," Jen said. "Even though we lost Jackson, my mom heart still aches for all those kids. No one should ever have to have to deal with that, especially at such a young age."
"I tell people it's my version of hell," crash survivor Dayton Price said. "And it is the worst thing that's ever happened to me, and the amount of pain that I was in every every single day was definitely really tough. But again, the support from everybody. I don't think people realize how much that actually helps me, being able to come back out here and make a full recovery and just have the help from everybody in the hospital and going home and seeing the support there as well. It's just, it was very tough and it took a long, long time."
"I think I blamed a lot on it on myself," Dayton continued. "Obviously, I wish that had never happened. And it's not fair to fair what happened in these families and and the kids."
"It definitely wasn't easy," crash survivor Hayden Underhill said. "It was just definitely a weird feeling, and you don't know what you're supposed to do or how you're supposed to act. You just kind of sit there and just want to leave and be out. I started to get to play golf again in the summer."
"It's weird," Hayden said about being back in Hobbs. "It definitely doesn't feel like what it felt like at all before when we are here having fun. It's just different atmosphere, different vibe. Just doesn't feel normal here anymore. It's definitely not something that anybody should have to go through. Families or anybody. It's just it's so weird and tough being out here and it's not, it's not easy."
"It was absolutely mind blowing getting to see all the support coming from worldwide for everybody that was involved in this tragic accident," Underhill said. "It was so heartwarming to see that everybody came together for something that's tragic and it was just amazing."
"It feels like honestly feels like your hometown," Price, a Canadian, said. "I'm nowhere close to Hobbs and the weather's not the same. It's a long way from home, but it feels like as soon as you step in here that you've lived here your whole life and that everybody knows who you are and they support who you are. The support is just unbelievable from from total strangers that come up to you and say hi and ask you how you're doing and how the recovery is going."
"Being able to be out here with my family today is such a privilege," Price said, having been able to golf with his mother and sister. "I'm just grateful to still be able to be here and obviously still be able to golf and do all those things that I love to do."
"It's changed my life in many ways," Underhill said. "It's changed my outlook on how I see things, how I handle things. And I just can't take anything for granted now and I want to make the most of every day that I can."
"I know a lot of people will take it for granted," Price said about golf. "And it's something that can be taken away from you within seconds and be taken away from you for a long time, and I think sitting in the hospital I realized that it's a privilege, and not everybody gets to play it, and there's a lot of people that are a lot worse off, and they can't do things that we may love to do. Whether that's just walking, or playing a sport, or eating on their own, or not being in a wheelchair for the rest of your life. I think it's something that I'll never take for granted again."
"He really fought through it as an incredibly young man, as a young man to go to something like that," Dayton's mother Ornella said. "I am the proudest mom ever."
"He's my best friend," Dayton's sister Noella Price said. "He's my my partner in crime. He's everything I ever could have asked for one person."
"I mean, this community, just continual relationship, all the relationships and friendships we've made with the families that we have a whole new family and life," Ornella said. "I feel so at home with everyone and coming out here again. It has obviously resurface some emotions and some hard times, but it helps us all come together and really support one another."
"It's definitely weird," Dayton said. "And it's not the same being here without all those guys and it's hard not to not to cry not to get upset. But I think they're looking at us and they're with us and they're pretty happy of how this turned out and that that we're all here together as one big family."
Now, a golf tournament brings everyone together once a year to remember the lost through the sport they all love. The tournament is called "Swing Fore Nine."
"So last year, we held a tournament within less than three weeks after the accident, and it was to raise funds for the families," tournament organizer Meghan Mooney said. "We established it then as an annual tournament in honor of them so that we always remember them and all that they contributed to this community while they're here."
"It's very special," Halie Cruz said. "I was actually here at this event last year as well. I only got to stay for a little bit, but to me it's just amazing seeing how many people from Hobbs all over different states and everything. It just it's like family. Even though we may not know each other, it's like family to me."
"I mean, there's not many communities that have come together like this community has come together," the mayor of Hobbs Sam Cobb said.
"We're just so thankful to Hobbs, everybody that is helping us tell the story of these kids and coach," Jen Zinn said. "We feel their support and their love and that means a lot to us."
"Laci was extremely fun," Chelsi said. "If you were around her, you were going to have a good time. She was always singing and dancing. She played softball, volleyball, basketball, track. She did it all, but she always had a ton of friends around her. So she brought the best out of everybody in all different ways. She was awesome."
"Laci loved everybody," Haydan said. "And if she didn't love you, you knew it. And it was because you were doing something that made her be that way, she didn't want anything bad for anybody. Like she wanted everybody to be their best person. And if you weren't being your best person, she was on you to be that person."
"And anything that we can do that's going to be in Laci's honor, that's going to carry forward and keep our name alive is is just a blessing to us. And that's all we could ask to do," Haydan said.
"Karisa had everything together," Sandy said. "She knew where she was going in life. She had goals, and she did everything she could to attain them. One of her goals was being a golfer. One of them was being a good Christian. And one of them was being a forensic scientist. And she went after her goals and everything she said and did."
"I am so proud that some good has come out of this," Raines continues. "It's horrible to think, that she gave her life for nothing. And I know that she didn't because we've got so many scholarship funds going and things to help kids that she would have been so happy about being able to help and do all this for everybody and to be able to be a part of it. It's just unbelievable because you don't think when they're little about them having any kind of a legacy that will live on. And it's just unbelievable to know her name, and I'm so happy to know that her name will be living on because she deserved it."
"And, you know, I think he left the world doing what he loved to do," Greg Zinn said about Jackson. "And that was playing competitive golf, being being a part of a team. And he just loved these guys."
"It's important for us to have his legacy be carried out," Jen said. "We also are giving a golf scholarship through his golf tournament, and we had people apply and we want those same character characteristics that Jackson had and we want that same, you know, spirit and and to support somebody with golf because it's such a great life lesson sport."
The Swing Fore 9 Benefit Tournament was created in 2022 to memorialize both the victims and survivors of the crash. the annual tournament continues to support the victims and families of the tragedy.
Memorial
:
The Victims and Survivors
Hayden is returning to school at a college in Wisconsin. He looks forward to carrying on the legacy of his teammates as he continues his collegiate golf career.
Dayton continues to heal from his injuries. He plans on returning to school, and dreams of becoming a professional golfer. A dream he shared with his whole team.
Tyler was in his first season as head coach for the university's golf teams. Players remember Coach James as a fun and goofy guy who always went above and beyond for his team. He is credited with being a big reason why the team felt more like a family. He was 26 years old.
Tiago came from Portugal to play golf for the University of the Southwest. He dreamed of becoming a professional in the PGA or European tour. He was 18 years old.
Mauricio traveled from Mexico to play golf for the University of the Southwest. He also played for a golf club in Mexico. He was 19 years old.
Travis was only a freshman at the University of the Southwest, but was known for his strong work ethic. He dreamed of becoming either a professional golfer or a member of the secret service. He was 19 years old.
Karisa's family remembers her as someone who had everything together, and knew where she was going in life. She had goals of playing golf and becoming a forensic scientist. She was 21 years old.
Known for her kindness, Laci was widely considered a ray of sunshine. In her bio for the Universtiy of the Southwest, Laci said her favorite sports memory was all the bus rides with her team. Her legacy lives on through the "Love Like Laci" Foundation. She was 18 years old.
Jackson is remembered as a sweet-natured person who worked as a volunteer coaching special needs children. Jackson's legacy lives on though a golf tournament and scholarship in his name. He was 22 years old.
NTSB Report
:
Investigation is ongoing
The initial NTSB crash report indicated that the truck was driven by the 13-year-old boy at the time, and that a tire had failed on the truck.
That report was later corrected, when DNA proved that the father, 38-year-old Henrich Siemens, was the one behind the wheel.
Testing also found meth in Siemens' blood.
In their updated report, the NTSB claims to have found no evidence of a truck tire failing.
It could take up to two years for the NTSB to finalize their crash report and determine a probable cause.