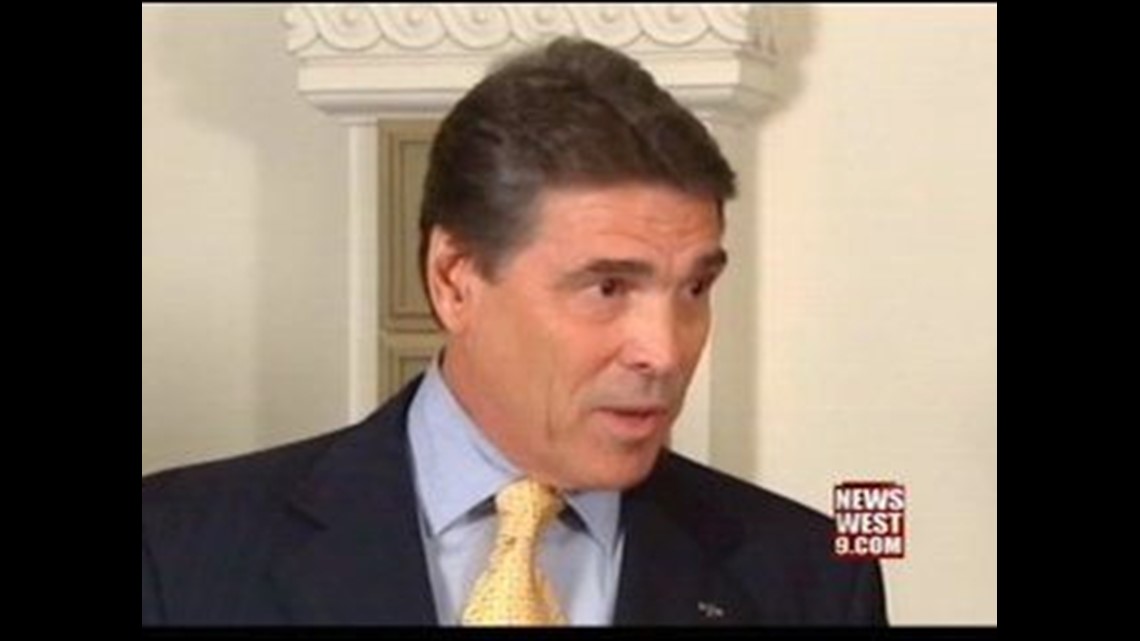 By Geena Martinez
NewsWest 9
ODESSA - It's official. Governor Rick Perry is running for president. Perry made the announcement on Saturday at a conference in South Carolina and it's got people talking everywhere.
NewsWest 9 hit the streets to find out what West Texans think about the Governor setting his sights on the White House.
The waiting game is over. Governor Rick Perry finally announced the news many were expecting. Perry tossing his hat into the presidential ring has many believing president could be added to his resume.
"I would vote for him," Resident, Susan Fuentes, said.
"We're better off than most states in our nation and to see what he can do on a larger scale, I think he has the potential," Resident, Bobby Olivo, said.
Perry is expected to use Texas' strong economy and job growth as a platform in his campaign.
"I think it'd be really good," Resident, J.R. Pinedo, said. "I think he'd really help our economy and I think he'd help us get in the right direction."
But not everyone is so sure about Perry's candidacy. Recent budget cuts have some people concerned.
"I do not support laying off a bunch of teachers and having to fill classrooms more and raising the tuition on colleges and stuff like that," Resident, Phylicia Davison, said.
"If you start cutting education, what are we looking at five, 10, 15 years down the road?" Resident, Kelly Long, said.
However there are still plenty of Perry supporters.
"There's a reason why he has been here so many years and so many terms so he is doing something right," Olivo said.
"He's been very consistent and I think that will carry on," Fuentes said. "I think we need somebody who is level headed and you can't go wrong with anyone from Texas."
But others think Texas may be Perry's downfall.
"I think they're seeing Rick Perry as a second George Bush," Resident, Denver Pradon, said.
Perry came under fire from critics after last weekend's day of prayer event but that doesn't seem to bother too many here in the Basin.
"Maybe his point of views, his values will help the United States," Pinedo said.
"If he's firm enough in his beliefs about religion which is such a hot topic, then he's going to be firm in everything else he does," Pradon said.