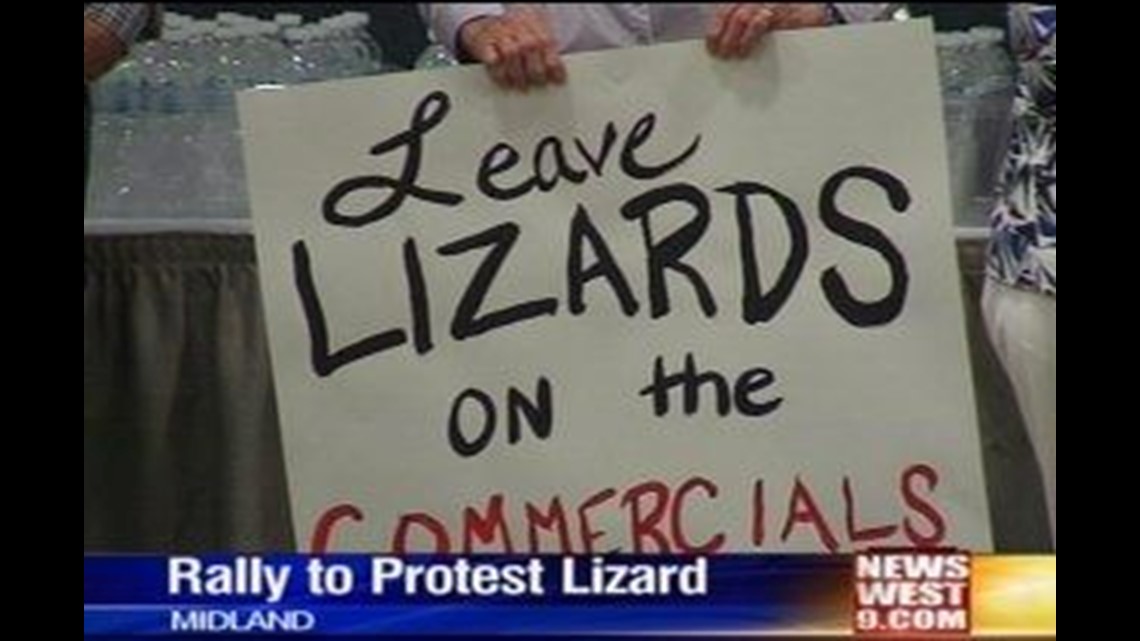 Nick Lawton
NewsWest 9
MIDLAND - It was a packed house of protesters on Tuesday at the Midland Center. All because of the dunes sagebrush lizard, which the U.S. Fish and Wildlife Service wants to add to the endangered species list.
If that happens, any of the lizard's habitats could become No Man's Land for drilling, farming and ranching.
In West Texas, that will affect the counties of Andrews, Crane, Gaines, Ward and Winkler. As well as several parts of southeastern New Mexico.
"Livelihoods will be lost," Texas Congressman Mike Conaway, said. "Ranchers and farmers whose lands have been in their families for a 100+ years will have to alter what they do and how they do it."
Concern for oil prices was raised at the rally.
The oil here in the Basin has the inside lane to the industry.
"Crude oil that would be produced out of Anwar or out of the Gulf Coast would take years to get to market once drilling starts," Conaway said. "This crude oil gets to market the next day. Suppress this crude oil production out of West Texas, then it will drive crude oil prices higher because the supply will be less."
If the lizard is listed, it was said at the rally that the U.S. Fish and Wildlife Service will conduct a two-year assessment to see where their habitats are.
Bids for drilling land in those areas might not come under this uncertainty.
"The bid sale that we just had, which generated $250 million in bonus income, the next time it'll generate zero," Texas Land Commissioner Jerry Patterson, said. "Because who's going to risk their capital betting that this is going to work out well?"
Those working for oil businesses at the rally told NewsWest 9 that they're fearing for their jobs, and fearing how any loss in oil and gas money will cause a chain reaction of losses in the Basin.
"It's going to be grocery stores, it's going to be the malls, it's going to be your Mom and Pop stores because when the money's not coming in from the oil business, it trickles right down there," Earl Erdmann, who works for Apollo Perforators, Inc. in Midland, said. "It'll trickle down to the guy that's mowing your yard."
Their worries, reflected on home-made signs reading "Lizards Don't Hire" and "Leave Lizards on the Commercials," protesting what they believe to be a threat to their way of life.
The cut-off date for the listing decision comes December 15th of this year.
NewsWest 9 talked to U.S. Fish and Wildlife Service officials when we first covered this story back in February, who said landowners with habitats on their land won't be losing it but they'll have to engage in conservation efforts.
The Service holds their own public hearing Wednesday at the Midland Center from 6:30 to 8 p.m.