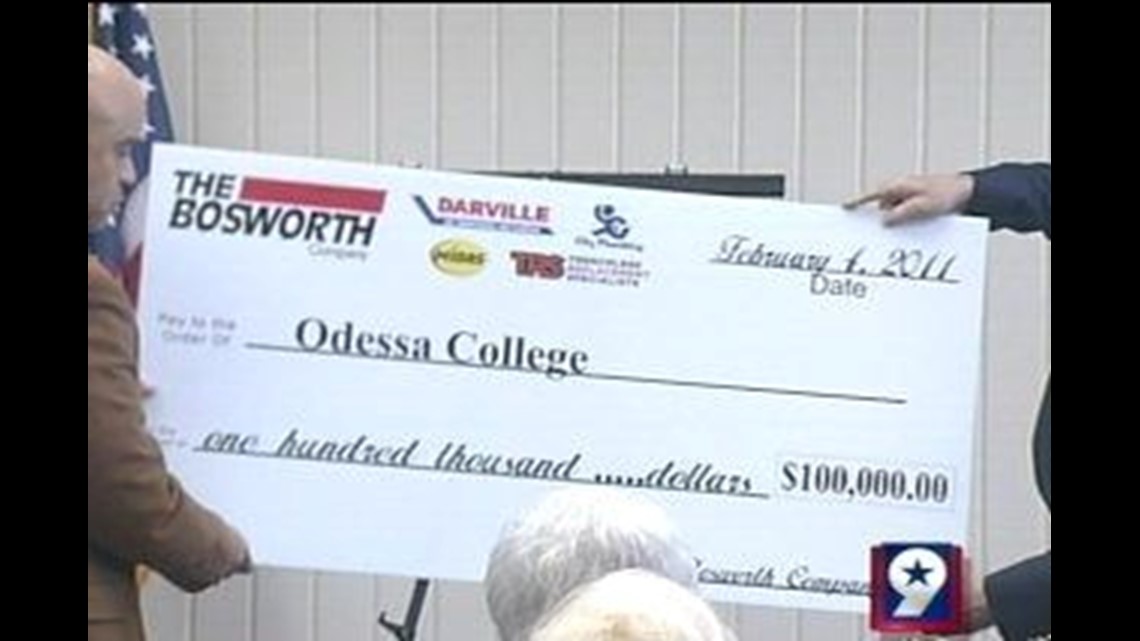 By Geena Martinez
NewsWest 9
ODESSA - $100,000; that's how much money Odessa College received from a donor.
The Bosworth Company presented a check Friday morning in support of continued funding, after proposed state budget cuts threatened to shut down the school.
On Friday, The Bosworth Company pledged to donate $10,000 a year for the next ten years.
OC President, Dr. Greg Williams, said the donation will help fill the gap of some funding lost to state budget cuts.
Earlier this week, Dr. Williams and students went to Austin to tell legislators, even with these recent donations, they still need help from the government to keep Odessa College alive.
"We need to have educated people in our area," Williams said. "We cant have any funding pulled that others are not having pulled from them."
The blistering cold and icy roads didn't stop Dr. Williams and Odessa College students from heading to Austin this week.
"It was great, it was good to see the Capitol packed with community college students for one thing," Williams said.
On Tuesday, students from all over Texas gathered at the Capitol for community college day, but that wasn't the only reason Odessa College made an appearance.
"Our students are exercising their rights," Williams said. "They did a great job, represented us very well. We feel that things will be taken care of for us in Austin."
OC students rallied together to show why their school shouldn't lose state funding because of budget cuts and they stood out to legislators.
"Some went out of their way to come and talk to me about how impressed they were with our students," Dr. Williams said. "The way they carried themselves and the knowledge they carried about issues and concerns."
And the cry for help won't stop at the Capitol. Dr. Williams said OC is asking people to put their names in support of the college. That's something he's seen so much of in recent weeks.
"It's heart warming when sometimes the people who are working in Austin don't get us so much that our local people do and they help us to re-educate those in Austin about the needs of the community," Williams said. "These are tough times for everyone but we're going to be better at the end of the day. That's what's important, you learn from difficult situations and you make yourself better. That's what life's about."