EL PASO, Texas — The El Paso community, as well as the rest of the Lone Star State, are being asked to show support for Vietnam and Korean War veteran US Army Lt. Col. Cecelia B. McKenzie, who turns 100 on Jan. 27.
Texas General Land Office Commissioner Dawn Buckingham, M.D., issued the appeal Wednesday for McKenzie, who is a resident at the Ambrosio Guillen Texas State Veterans Home in El Paso. McKenzie has requested at least 100 birthday cards for the milestone.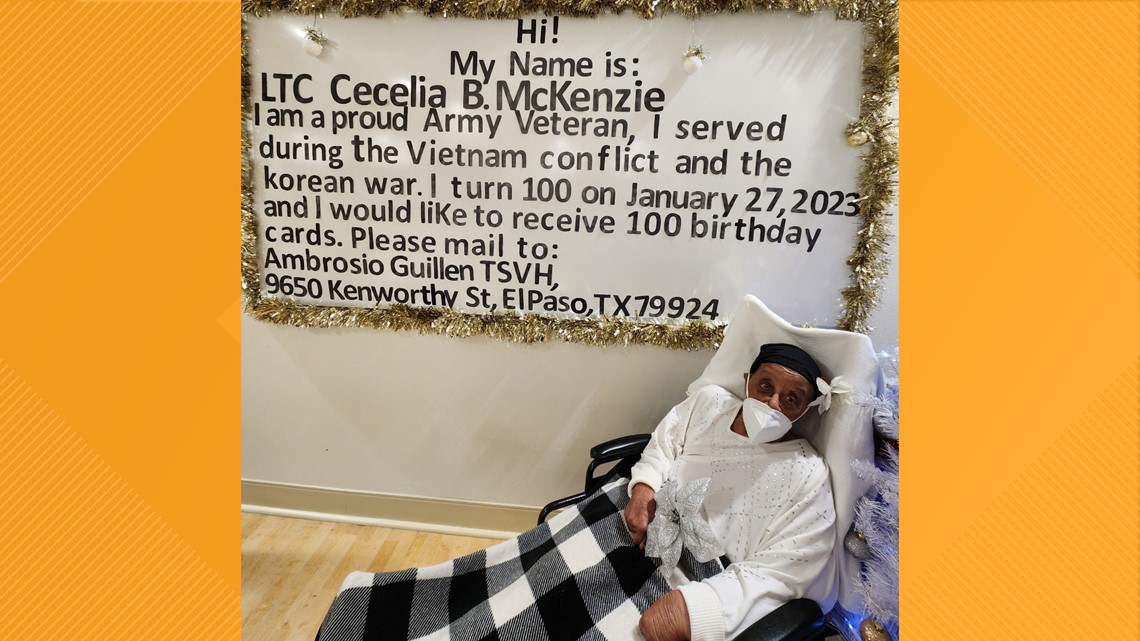 McKenzie served in the Army during the Korean and Vietnam wara, entering into active duty in July 1956. During her time serving the nation, she worked as an obstetric nurse and was stationed overseas in Okinawa, Japan; Paris, France; London, England; and Hawaii.
She received several awards for exceptional service including the National Defense Medal with an oak leaf cluster, the Army Commendation Medal and the Meritorious Service Medal.
In July 1973, McKenzie retired from service as the head nurse of the pediatric department at William Beaumont Army Medical in El Paso. She has two children, four grandchildren, nine great-grandchildren and five great-great-grandchildren.
To help celebrate the occasion, Texans can send birthday cards to her at:
Ambrosio Guillen TSVH
9650 Kenworthy Street
El Paso, Texas 79924