DALLAS — We are weeks away from the final chowdown, and we now know the final dishes that are fighting for the top spots.
The State Fair of Texas announced the finalists for the 2023 Big Tex Choice Awards. Ten dishes are now competing for three winning titles: "Best Taste - Savory," "Best Taste - Sweet," and "Most Creative."
The competition started in early July with 57 entries. Judges had to whittle them down to 36 semi-finalists. Each of them were evaluated by uniqueness, creativity, presentation, and taste.
After some taste tests and voting, the judges are down to their final foods.
Here are the Top 10 finalists (WARNING: Do not read on an empty stomach):
Savory finalists

Deep Fried Cheesy Crab Tater Bites, Isaac Rousso
This delicious dish starts with a blend of minced crab meat, shredded potato, cheese, and spices that are formed into tater bites. As they go in the fryer, they become golden brown, and you can smell the seasonings coming together with the crab meat. A cheesy Cajun sauce is simultaneously made, which starts off with the holy trinity: onions, bell peppers, and celery. These ingredients are sautéed perfectly with melty American cheese and a secret Cajun spice mix. As it all comes together, crawfish are added to enhance the flavor experience. These delicious golden tater bites are ladled with rich, silky, cheesy crawfish sauce on top, making sure each bite is topped with Cajun gold.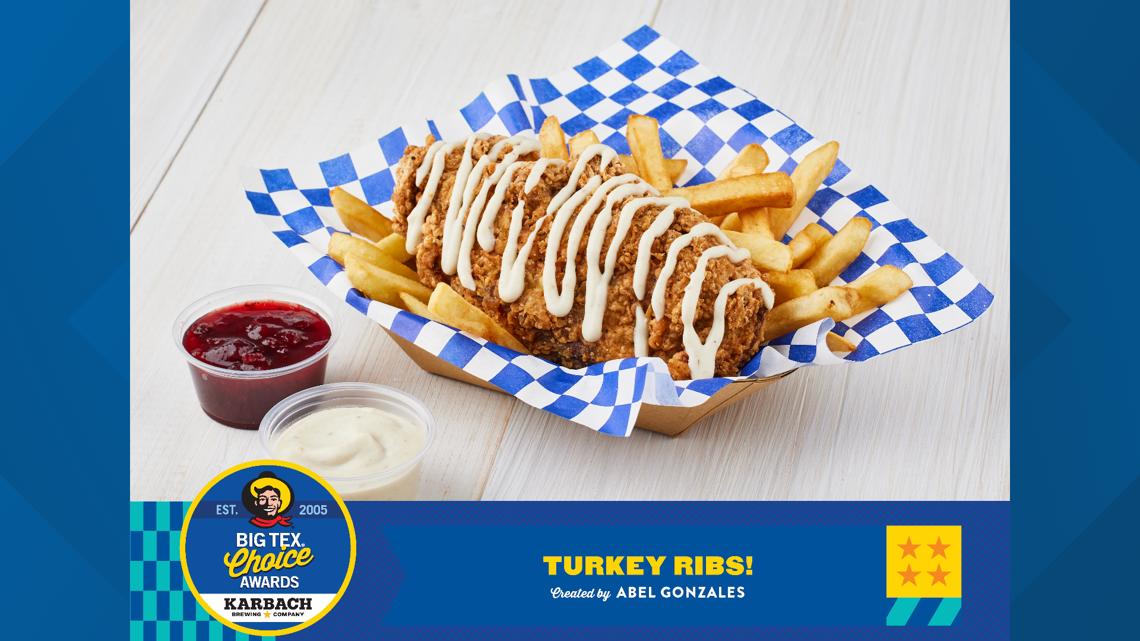 Turkey Ribs! Abel Gonzales
A new twist on holiday classics. Take the best part of turkey you never knew you loved, gently fry it, and serve it with stuffing seasoned fries, homemade giblet gravy, and a secret salsa recipe. You can also order it Texas Style with BBQ sauce fries, jalapeños, and pickles! You'll crave it come the holidays, but you'll only get it during the great State Fair of Texas!

OX'cellent Soul Roll, Kerston & Shawn Thorns
Savory beef oxtails are slowly simmered for hours until rendered tender, juicy, and full of flavor. Tasty chunks of meat and crumbled homestyle cornbread are then added and paired with rich butter, celery, and sweet onions. The hearty beef mixture is rolled into a light and flaky, crispy spring roll and served deep-fried. Come and take a bite of this classic Southern staple with a twist.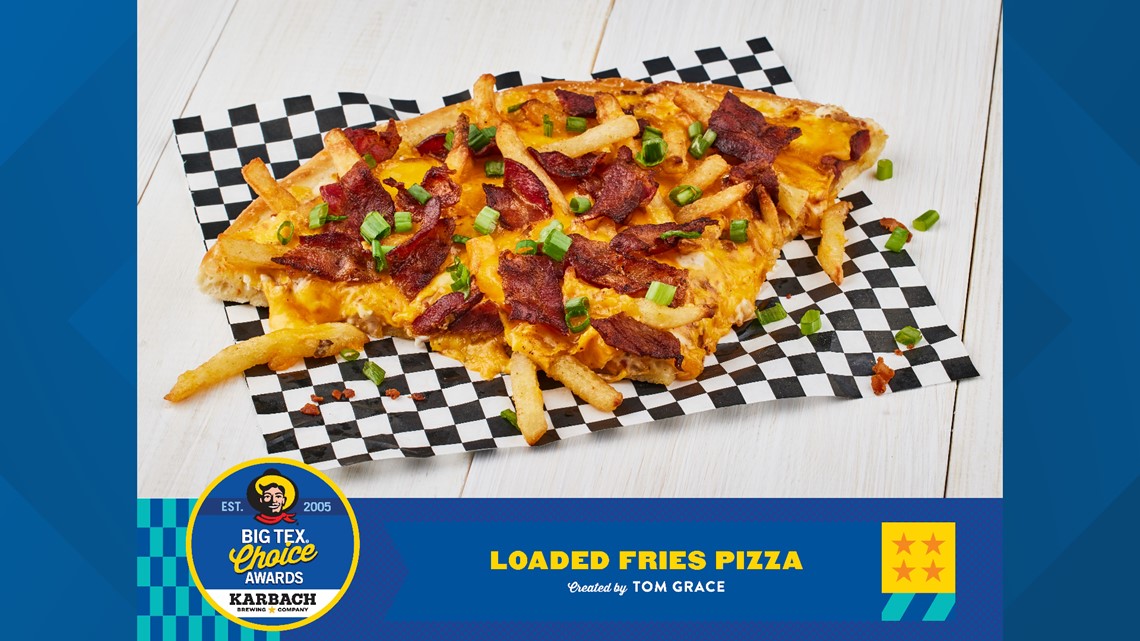 Loaded Fries Pizza, Tom Grace
Daily, fresh-made pizza dough is classically hand-tossed and stretched onto a giant 16" pizza screen. After ladling on a healthy amount of Texas' favorite condiment, house-made buttermilk ranch dressing, the pie is covered with a layer of freshly shredded mozzarella. Then a pile of yummy, crunchy, salted French fries is added, and in comes a smothering blanket of cheddar cheese! Finally, nothing tops off cheddar fries better than a ton of crunchy chopped bacon. This bakes, and out comes your loaded fries...ON A PIZZA topped with some fresh chopped chives. Dive into this tangy, cheesy, crunchy, satisfying, one-of-a-kind pizza pie.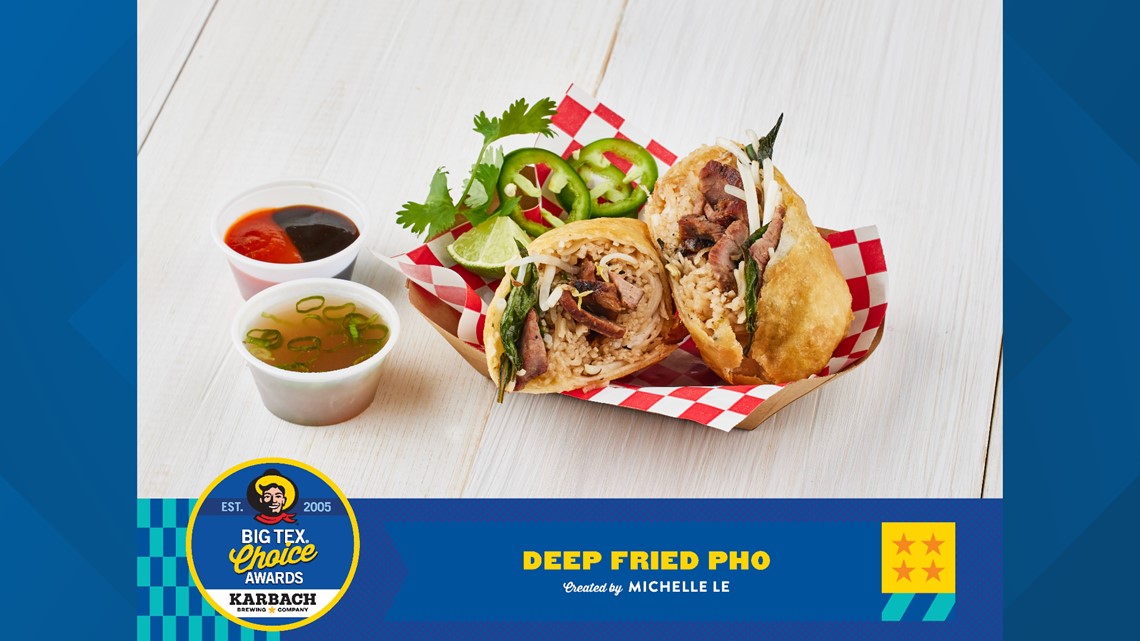 Deep Fried Pho, Michelle Le
Bringing a southern flare to this popular traditional Vietnamese comfort food that is both rich and savory. Deep Fired Pho is handcrafted, rolled up, and deep-fried Texas style! This unique combination creates a perfect balance between flavorful and refreshing. With every bite, you get a harmonious and succulent mouthful of noodles, slices of beef, fresh herbs, bean sprouts, and a taste of aromatic pho broth that has been slowly simmered for hours. To tie this experience together, it is served with a side of pho broth for dipping, lime, jalapeños, cilantro, hoisin sauce, and sriracha for a spicy, fiery kick!




Sweet finalists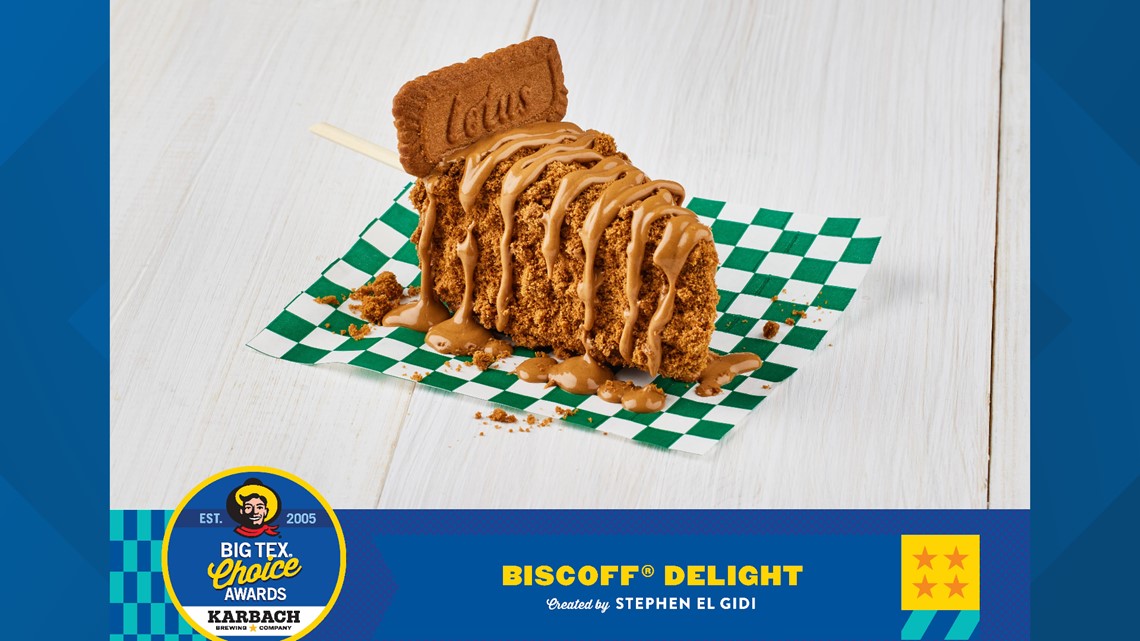 Biscoff® Delight, Stephen El Gidi
Immerse yourself in the realm of a classic New York-style cheesecake coated with Belgian chocolate. Each bite reveals the symphony of an outer layer adorned with crushed Biscoff® cookies, offering a delightful crunch. To elevate this edible artwork, a drizzle of Lotus Biscoff® spread cascades gracefully, imparting a caramelized touch. Finally, a crowning glory is bestowed upon this culinary marvel with a perfectly placed Biscoff® cookie that entices you to embrace pure indulgence.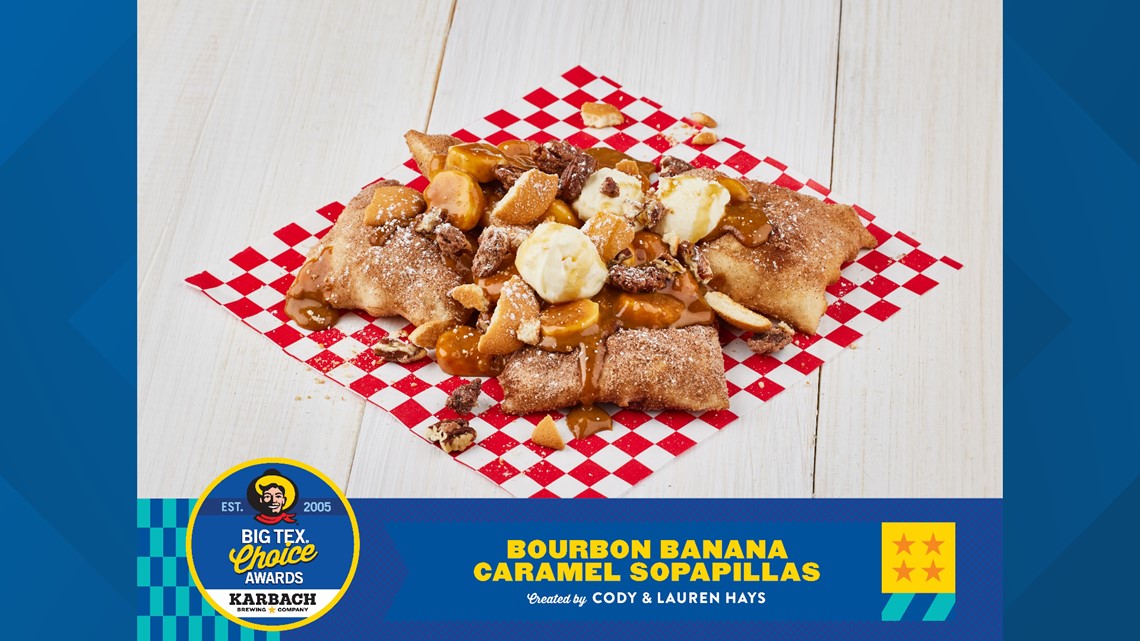 Bourbon Banana Caramel Sopapillas, Cody & Lauren Hays
Hot and delicious traditional sopapillas topped with vanilla-caramel-infused bananas, sweet bourbon syrup, crushed candied pecans, sweetened mascarpone cheese, crumbled Nilla Wafers, and dusted with powdered sugar.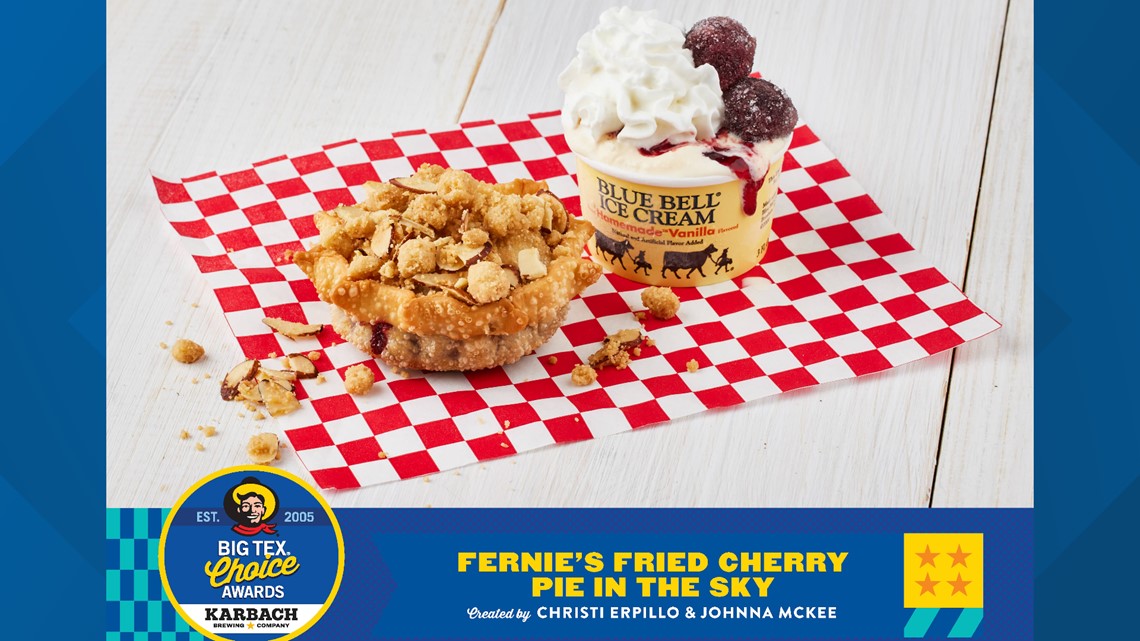 Fried Cherry Pie in the Sky, Christi Erpillo & Johnna McKee
A pie tart mold is lined with flakey, buttery pastry dough, then layered with tender, crumbly shortbread cookies, juicy and tart sweet cherries, a layer of blended shortbread cookies and finally topped with more light, airy pastry, and hand-crimped forming the cutest pie. After a quick dip in the fryer, the luscious dessert is topped with a butter almond shortbread crumble, giving you all the taste of your favorite cherry cobbler and tangy cherry pie! Presented with the iconic pairing of Blue Bell ® vanilla ice cream drizzled with cherry preserves, clouds of whipped cream, and garnished with sugared dark sweet cherries! This divine dessert is cherries from heaven!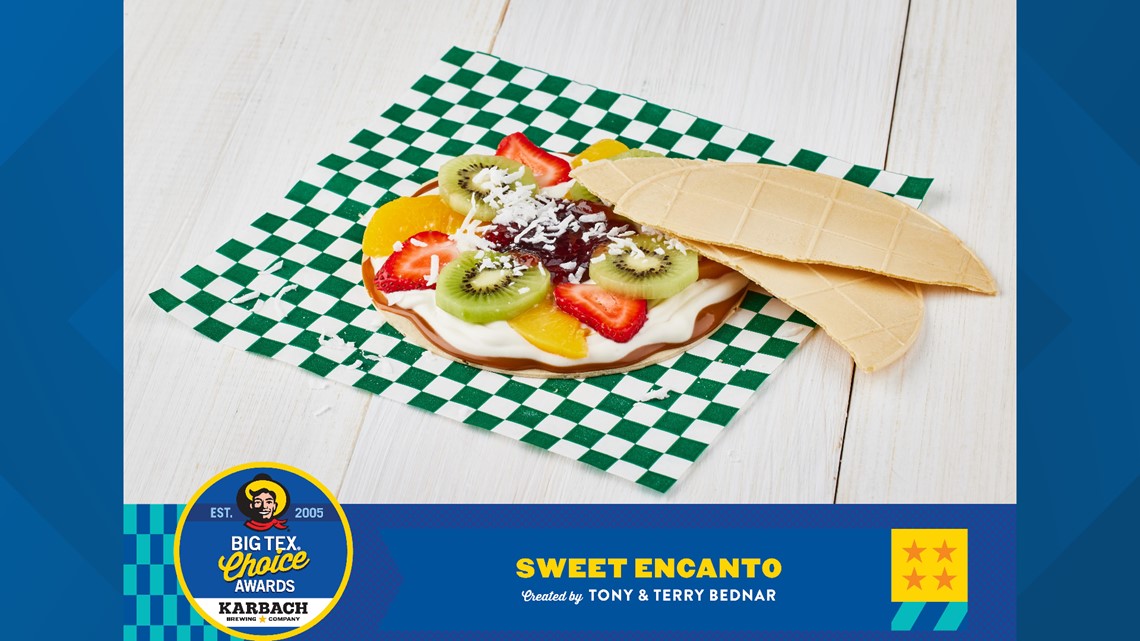 Sweet Encanto, Tony & Terry Bednar
Sweet Encanto is the ultimate sweet delight that is sure to satisfy even the sweetest tooth. A round waffle is lightly sweetened with caramel dulce de leche that is swirled perfectly on a wafer. A specialty cream with slices of strawberry, kiwi, peach, and shredded coconut is added. Then this is topped with raspberry jam and drizzled with sweetened condensed milk. Take advantage of this amazing opportunity to indulge in the best flavors of Latin America and taste the magic of Sweet Encanto!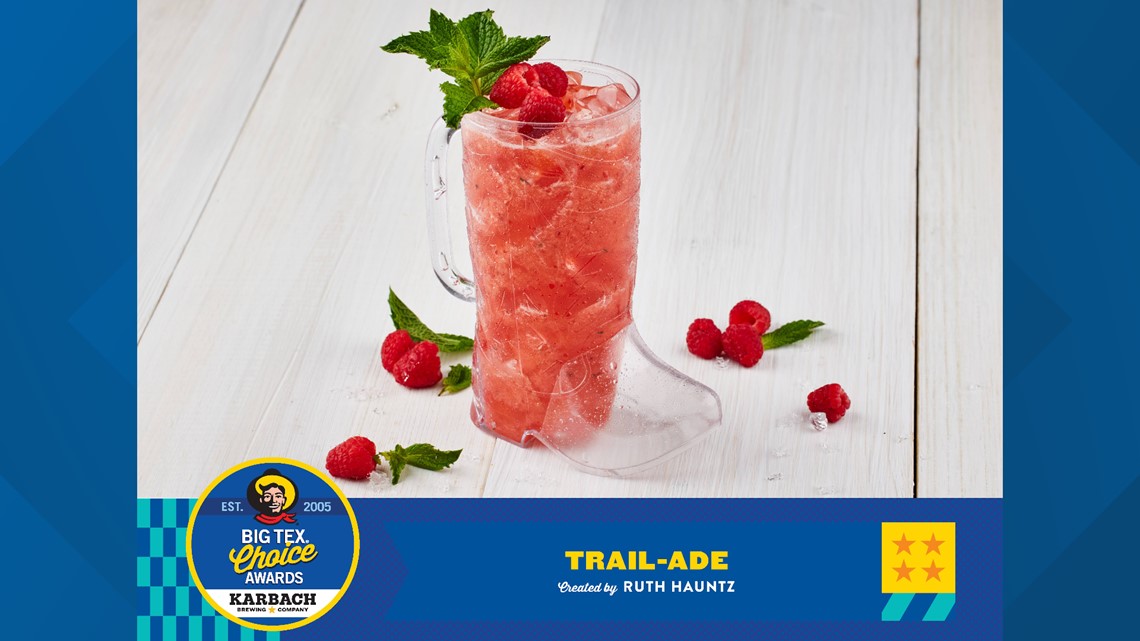 Trail-Ade, Ruth Hauntz
If the Texas heat is bringing you down, Trail-Ade is the perfect remedy! This delightful blend of summer fruits, crisp cucumbers, and fresh mint blended with homemade lemonade is the ideal elixir to cure what's ailing you. Trail-Ade is a fruity, refreshing, nonalcoholic cocktail served in a souvenir cowboy boot cup to be enjoyed anywhere: after a trail ride, in a saloon, and especially while strolling through the State Fair of Texas fairgrounds. As Big Tex would say, "These boots were made for walkin'!" Trail-Ade, it's boot sipp'n good.