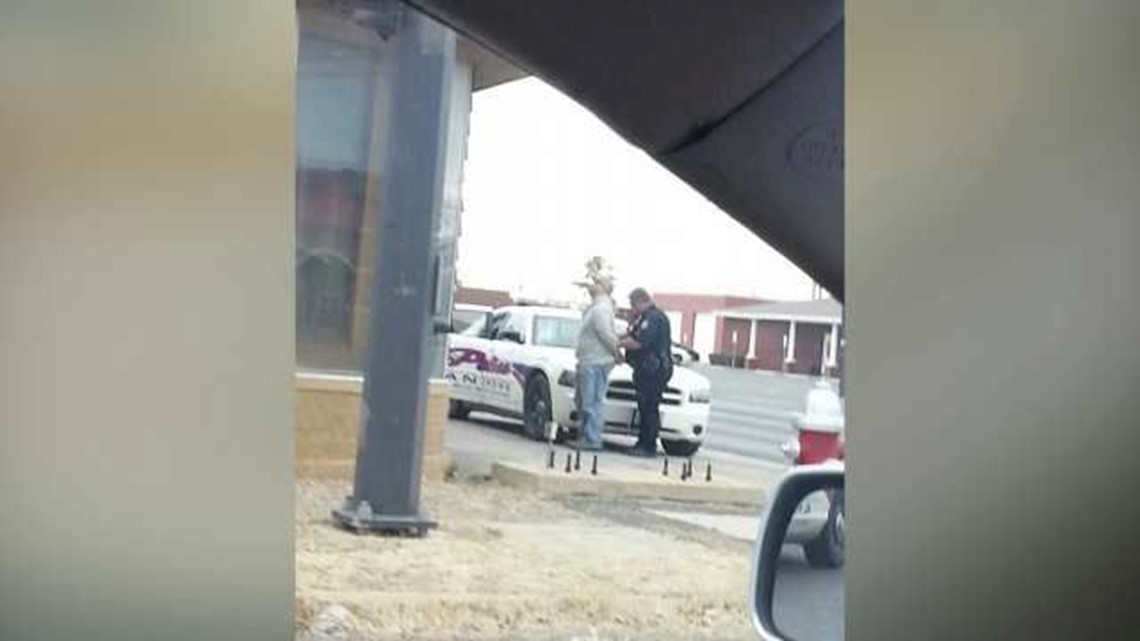 By Geena Martinez
NewsWest 9
ANDREWS - A fierce debate is heating up again in Andrews. A gun rights group is upset because one of their members was arrested on Wednesday afternoon after carrying around his rifle in public. The whole thing caused a nearby school to go on lockdown.
The group is called "Come and Take It" and they said this is the second unlawful arrest of one of their members.
They said they're not trying to scare anyone but rather educate people about their second amendment rights. Members said Wednesday's incident proves why.
"I was driving down Main Street to go get lunch and I saw a man with a rifle on his back," Angela Arthur said.
That was the sight that sparked concern and a flurry of 911 calls to the Andrews Police Department on Wednesday afternoon.
"I was gonna stop at Allsups but then I thought he maybe was gonna go in there so I changed my mind and just went somewhere else because it's scary," Arthur said.
The man is Michael Keoughan, a U.S. Army veteran.
Arthur snapped the picture while Keoughan was walking down the street not far from Andrews Middle School
"He was just calmly walking," Arthur said. "You wouldn't think anything of it unless he didn't have a gun."
But moments later, the middle school was put on lockdown and Arthur said Keoughan was surrounded by police.
He was eventually arrested. Another viewer took a picture as it happened.
"The charges were disorderly conduct and displaying a weapon in a manner calculated to cause alarm," Stephanie McDonald said. McDonald is with the Midland chapter of "Come and Take It."
She said Keoughan is also member and he was out in Andrews scouting areas for their upcoming rally.
According to a press release from the Andrews Police Department, Keoughan was, at one point, inside of a gas station.
Police said once they caught up to him, Keoughan told officers he was out for a walk.
McDonald said the arrest should've never happened.
"That's not really a valid charge when he was just walking down the street with his rifle across his back" she said. "It wasn't across his front, he wasn't carrying it in his hands, he wasn't brandishing it. It was simply strung across his back."
Police said Keoughan was taken into custody based on their initial investigation though the press release did not give any other details.
"Just because someone calls in and says they're alarmed doesn't mean there's an actual threat in the carrying," McDonald said. "It can be alarming to some, I understand that but that's part of why we're here. To educate the public and get the word out that we're not the enemy. We're fighting for your rights."
The group said this is the second time a military veteran has been arrested for exercising their rights and they plan to fight it.
"To have something like this happen to them, it's an outrage," Keoughan's wife, April, said. "Call lawyers, do whatever we have to do to get this dropped because it's unlawful."