MIDLAND, Texas — The Midland ISD school board plans discuss terminating Superintendent Orlando Riddick's contract early.
The news came out of the board's meeting on Friday, where they met in closed session for more than three hours.
According to Rick Davis, President of the MISD board of trustees, he said the board has moved in this direction because Riddick has failed to meet academic goals throughout the district.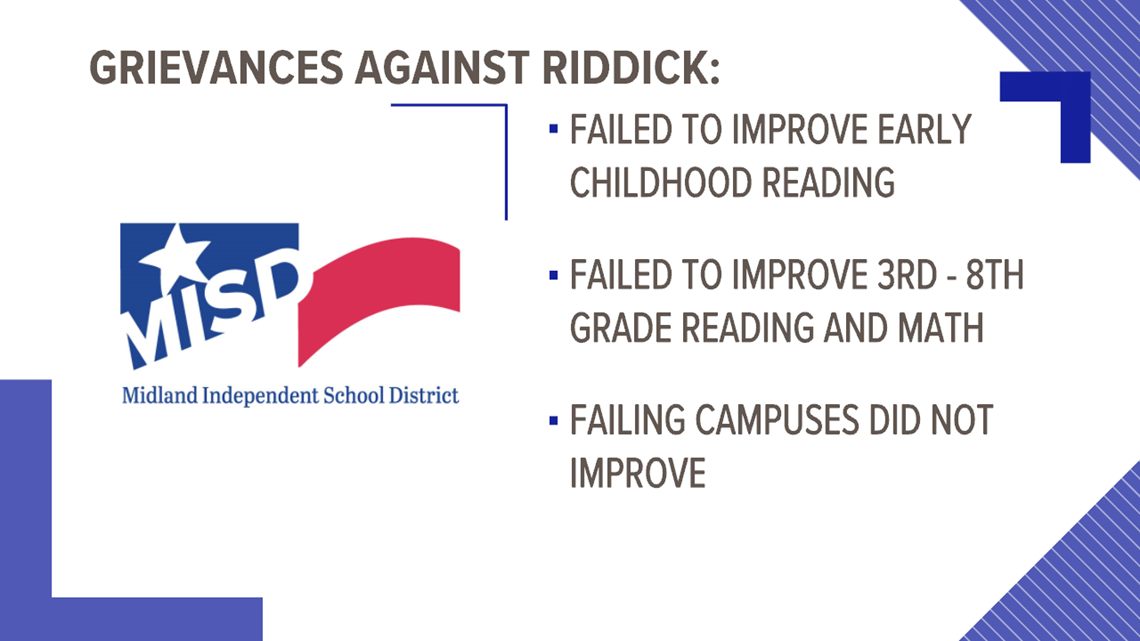 Those goals included improving reading and math scores in early childhood and elementary school.
"He further agreed that he would be evaluated based on his performance in achieving those goals. He has not achieved the goals that we set out for him to achieve and that's what led to this first step of a two-step process," Davis said.
The two steps involved in this process include a proposal to terminate the contract, which could occur on August 25, and then a vote to terminate if Riddick does not file a grievance.
"If he does not file a grievance within 15 days, then we can go forward with a second special meeting and vote to terminate the contract. If he files a grievance, he is entitled to a hearing, and it's a more prolonged process," Davis said.
However, even if the proposal passes on August 25, Riddick will still be the superintendent until the official vote is taken.
"He's our superintendent today. He'll be our superintendent even following the vote to propose the termination of his contract. He will remain our superintendent until the second step is taken," Davis said.
If the school board ultimately votes to terminate Riddick's contract, the board would begin looking for an interim superintendent.
"If we terminated his contract, then I expect that we would seek an interim superintendent to be our superintendent for the district, and then we would begin a search for a permanent superintendent replacement," Davis said.
The board voted late Monday to not extend Riddick's contract or give him a raise. As the contract reads right now, it will end in 2022.