BIG BEND NATIONAL PARK, Texas — The year 2020 has been filled with a lot of things – discord and division to name just a few. That's why we are refocusing on one thing that we all have in common – the sky. No matter who you are or where you stand, we all sleep under the same sky, the same set of stars and the same moon.
Take a West Texas golden hour for example, the period of time as the sun is setting – there's nothing like it. For this story, though, we must wait until the sun goes down; that is when the real show begins.
Like the song suggests, the stars at night…well, you know.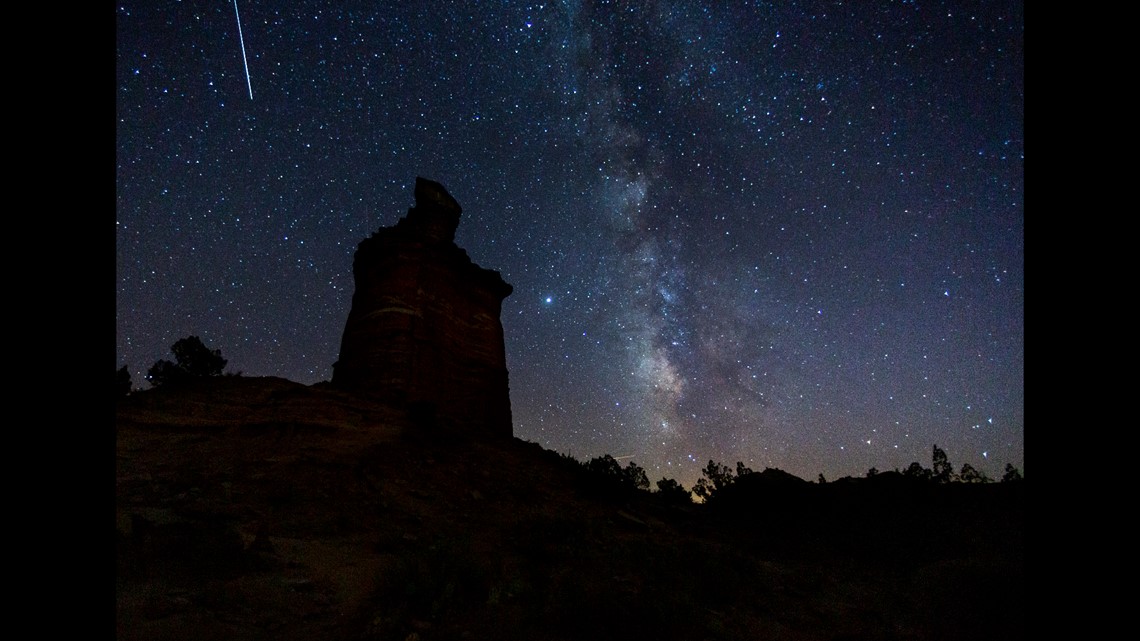 "It's like coming home. It's like being home," photographer Richard Acosta said.
The eye behind show-stopping night sky photography is Richard Acosta; you could say he's caught the shutter bug for shooting the Texas night sky. He's loaded up on a week-long trip, taking photos of the night sky across Texas. From the panhandle, to the heart of the Lone Star State – he calls it a Texas Tour of the Night Sky.
"I really want these pictures to open up people's minds and hearts about how precious and how sacred and how magical the dark skies of Texas can be," Acosta said.
His aim is to reach as many people as he can and show them the wonder of a truly dark sky.
"Eighteen percent of people in the world have seen the Milky Way. Eighteen percent and it's getting harder and harder to do," Acosta said.
Capturing crystal clear kind of images of a starry night isn't easy. The task requires the right equipment, settings and most important, location; you can't go just anywhere to snap a crystal clear image of the Milky Way and other constellations.
"Where we have to go to get images like this, it's not a downtown big city, they're hard to get to," Acosta said.
That means miles of hauling camera equipment through rough terrain in the dark, but the pay off …magic. It's a lot of effort for just a photo. Though, Richard will tell you it's more than just an image on a screen.
"I love to take these images and be able to share them with more people and to inspire awe, to get more photographers out here and most importantly, protect this resource that we have," he said.
You may not know it, but tremendous effort has been made to keep our dark skies just that – dark.
Take the McDonald Observatory for example: to protect its work of studying the stars, the seven surrounding counties have outdoor lighting ordinances in place. These ordinances fight light pollution; all outdoor light fixtures are shielded to reflect light down, using the smallest number of lights and lowest wattage bulbs necessary to effectively light the area.
"It's pretty obvious that if we can't see the stars, we can't study them," Steven Humil, a dark skies specialist for the McDonald Observatory said.
Humil says the greatest challenge to keeping our skies dark is awareness.
"They just don't know what they're missing so they don't' take any action to do anything about it," he said. "Suburban and rural areas are getting brighter and brighter skies. There are very few places left on planet earth where a truly dark night sky is accessible."
"Lack of education," Cindy Luongo Cassidy said.
Luongo-Cassidy knows a thing or two about dark skies – she's the Texas Chapter Director of the International Dark Skies Association. This group helps areas of the state earn a dark skies designation. That designation not only certifies that the sky is in fact dark, but it helps keep it that way.
If a park or community wants to earn the designation of dark skies, Cindy knows how to get it done.
"Once people are aware of the fact that they can do lighting a little bit differently, in a way that makes sure every light is useful, that makes sure you target the light and you put it where you need it instead of sending it to your neighbor's yard or into the street or into the sky," she said. "When they learn to do their lighting a little bit different way, then gosh…they also get to see the stars."
One of the most spectacular areas for stargazing is deep in the heart of the West Texas desert. There, you will find the darkest measured skies in the lower 48 states – Big Bend National Park. It has an official designation as an International Dark Sky Park. It's one of 10 in the world.
"It's a natural resource that we can treat just like all the natural resources that we protect: air, water, wildlife. Why not also protect the dark nights?," Big Bend National Park Ranger Annie Gilliland said.
More protection is in the works and could be a game changer for our region and its skies.
The McDonald Observatory is applying to the International Dark Sky Association to establish an International Dark Sky Reserve. If completed, this would be the largest of all other existing dark sky reserves in the world combined.
More protection means more people like Richard Acosta would have easier access to see one of the greatest wonders our region has to offer.
"I count myself fortunate to be one of the people that can capture it in a way that inspires people to want to come see it," he said.
"The sky just seems so bright and real and like you could reach out and touch it. It's just amazing. People should have that experience, they should have that connection with the universe," Luongo-Cassidy said.
If a photo is worth a thousand words, maybe a few of those words would be a new found appreciation for slowing down and looking up.
Richard's dark sky photography will be on display in the coming weeks…you can see his work in-person at the Arts Council of Midland Nov 19 – Dec 3 and the Permian Basin Artist Fair, Dec 5 at the Cactus House of Odessa. He says more shows are in the works.
Take a look at Richard's work below:
A Texas Tour of the Texas Night Sky