DRIPPING SPRINGS, Texas — A dark sky is important – it maintains wildlife and keeps the world's eco-system balanced. Without it, everything is thrown off. Light pollution has even been linked to negative consequences for human health.
As we told you last night, generations are growing up having never seen the Milky Way. Just 20-percent of the world's population have seen it. That's why efforts are being made to change that reality. Texas state and national parks are working to earn a dark skies designation, making stargazing more accessible to everyone.
Imagine a clear view of the Milky Way from wherever you were in your town? That's not a stretch for many of our communities in West Texas. There's a town just outside of Austin that has a full view of the Milky Way, no matter where you look up. This community has made it their mission to shed light on the importance of a truly dark sky.
You don't have to look far to see the creator's handiwork in Dripping Springs.
"It's phenomenal to go outside and be able to see the skies," mayor Bill Foulds said.
That's why photographer Richard Acosta plotted a stop in Dripping Springs on his Texas Tour of the Night Sky. An unobstructed view of the dark night sky is the norm. So much so that people in town don't give that type of sky a second thought.
"I've taken this for granted my whole life and didn't even have a clue," mayor Foulds said. "I brought my nephew out to visit us. He lives in Houston. He was about 7 or 8, went out in the backyard, he looked up and he saw the Milky Way and he had never seen it before."
A dark sky is more than just a way of life in Dripping Springs – it's the law.
"We're known for having a pretty strict lighting ordinance, one of the first cities in Texas to have one," Michelle Fischer, city administrator for Dripping Springs said.
Fischer helped create the first dark skies ordinance in town back in 2001. The ordinances are similar to what you'll find in West Texas. Communities like Alpine and Fort Davis work with the McDonald Obseravtory to ensure light pollution does not get in the way of their work.
Here's what sets Dripping Springs apart: it is the first International Dark Sky community in Texas, sixth in the world. They're a shining example of how a community can thrive, while also preserve nature.
"Light pollution is so simple to solve that problem and fix it. Turn off the lights. Turn down the lights or shield them and direct them only to where they're really needed," Fischer said.
So what does that look like? Just take a drive through town. Lights are shielded and pointed down in neighborhoods; same goes for businesses. Big box stores have bought in, their large signs are not lit. There is strategic lighting only at business entrances. Even gas stations in town have specific lighting.
"It saves money because it is more energy efficient. It is important because it affects wildlife and plants that rely on the night sky. It's also better for human to have better lighting – it's better for our eyes, for our circadian rhythm and our health," Fischer said.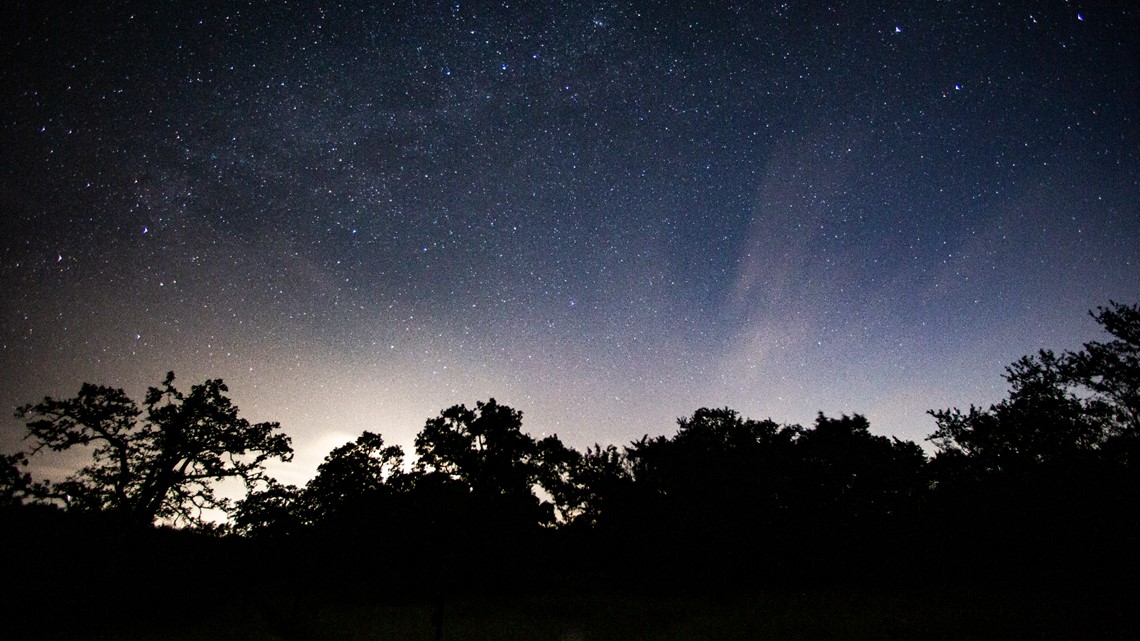 Today, Dripping Springs isn't the sole Texas community with a designated dark sky. More cities have bought in to preserving the dark sky. There are now five with the official dark sky designation, 29 total in the world.
"It's our heritage, it's our connection to the past, to the people around us, to the universe. Everybody on this planet, we're under the same sky. Just the wonder of being here and being under that same beautiful sky," Fischer said.
A simple reminder that if you need a moment to reconnect to something that binds us all, just look up.
Other communities are working towards a dark sky designation. It's an extensive application process that requires applicants to demonstrate robust community support for dark sky protection.