SAN ANTONIO — As major annual events around the Lone Star State drop off the calendar permanently for 2020 – including Austin City Limits, the State Fair, Mala Luna Music Festival and Frederickburg's Oktoberfest – San Antonio continues to hold out hope that the Alamo City's most beloved party, Fiesta, is able to go on in some form this fall.
The event, usually scheduled for spring, was postponed by the city and organizers to November at the onset of the coronavirus pandemic. But as the health crisis continues a worsening trend that started in early June for the metro and state at large, it's worth wondering if Fiesta will be the next major in-person event to be canceled outright.
When asked about the possibility at a Wednesday evening briefing, Mayor Ron Nirenberg suggested that an update on that front will be coming "within the week."
"Obviously it's a very serious situation," he said. "We're cognizant of where we are with this disease and are not taking that lightly."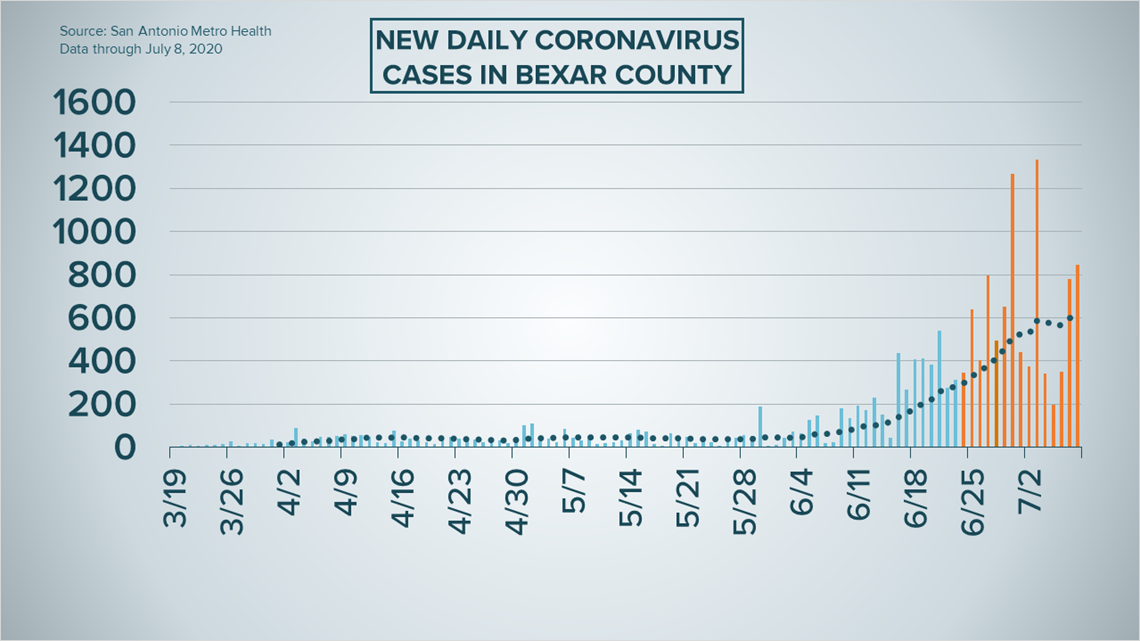 Fiesta San Antonio Commission Executive Director Amy Shaw said they're moving forward with the plan of starting Fiesta on Nov. 5 for now.
"To be honest with you, it's looking kind of hard to have a normal Fiesta in November, but who knows," Shaw said. "The world could change again in three weeks."
Shaw said other major events like the fair and music festival waited until about three months out to make their decisions. Both ACL and the State Fair of Texas were planned for late September to early October.
"Just about everything – ACL, the Dallas state fair – have been looking at about a 90-day window of making a decision to go or no-go," Shaw said. "So those events are 30 days ahead of us. We hope to have a go or no-go by Labor Day."
A decision may come sooner. Shaw said they've been checking in with health experts and city officials on a regular basis to determine what's best for the community.
Fiesta attracts more than 2 million people each year, and brings in about $340 million for San Antonio, according to Shaw.
"For a city that's already been hit very hard by cuts in tourism, we owe it to the community to make this decision very carefully," she said. "But again, health and safety is No. 1."
Shaw said that, no matter the outcome, this won't be the end of Fiesta. It will only put a pause on the party.
"We've been around for 130 years," Shaw said. "A little COVID-19 isn't going to keep us down for long."
About 30 minutes away in New Braunfels, Wurstfest officials are also waiting to make a final decision on their 2020 event, which typically takes place in October.
In a statement, they said:
"The Wurstfest board of directors and staff are monitoring COVID-19 developments and continue to discuss the impact on the 2020 festival. In the coming weeks, we will be seeking input from local and state officials to make a decision that is in the best interest of our community and considers the safety of all involved.
"We look forward to hosting our 60th festival as soon as conditions permit us to do so safely and know our guests are looking forward to it with as much anticipation as we are."
As recently as last week, officials with the Fiesta Commission said they are "closely watching" the latest development in the pandemic, which has seen 16,725 Bexar County residents infected with COVID-19 as of Wednesday. 146 residents, meanwhile, have died from virus-related complications as local and state officials continue to emphasize the importance of wearing masks and social distancing.